Dear SingFree.net Member,
Why not save yourself some time this school year and get access to 5 new songs immediately?
The brand new 2016-2017 SingFree.net Collection of five original pieces, for middle school choir, is ready for your subscription!
Please key into the SingFree.net website to see and hear what is available in the: New Collection Store
These new pieces are fresh, fun and exciting. The biggest benefit of subscribing to SingFree.net is the time it will save you in getting your groups up and singing.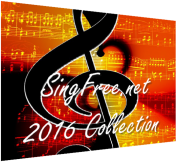 This new collection is guaranteed to have your students engaged and performing in a fraction of the time you usually spend each year.

The five pieces are designed to fit into your school performance calendar and give you and your students instant access to scores and recordings that will start off the year in high gear.

Another benefit of a subscription to SingFree.net is the low cost for such high quality music and recordings. The complete 2016-2017 Collection of all five pieces is just $49.00. This is a mere fraction of what it would cost through other sources!!

Make this a SingFree.net year! Save time, save money and have loads of fun with your groups.

I wish you the very best for a great start to your school year.

Sincerely,

Ken Kraintz

SingFree.net Founder