Greetings!



Announcing the release of the brand new SingFree 2016-2017 Collection of middle school choir arrangements and recordings developed especially for your groups.

This exciting collection of five (5) new original pieces is definitely a must have for your choirs. The selections are designed fit the needs of your school year programs and concerts in these categories:

Welcome Back/Motivational Song, Veteran's Day Program, Winter Holiday Concert, Spring Concert, and a Moving On/Graduation Program. Of course they are interchangeable and can be learned at any time.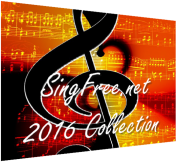 The selections available for the 2016-2017 school year are:

1. The Winds Of Africa

2. More Than A Hero

3. A Very Merry Time Of Year

4. One Small Voice

5. Oh What A Beautiful Day

Each school year, SingFree.net will produce a number of selections for classroom and performance use in a subscription package. All pieces will be made available on line at one time. With a single $49 subscription, you will have immediate access to all the pieces available for that year. As you know, this is a mere fraction of what five complete pieces plus full recordings would cost through other sources.

To hear samples of this year's collection, go to www.SingFree.net and press the 2016 Collection tab. There you'll find short descriptions of each piece along with sample full-mix recordings.

Wishing you all the best,

Ken KraintzFounder of SingFree.net