FREE Downloadable Sheet Music Library for Middle School Choirs
Does instant, downloadable sheet music for a middle school choir sound too good to be true? It no longer has to be. Enter your email address under the "Special Gift" box and receive your two FREE songs!
What you are about to realize is that you don't have to pay premium prices to get quality arrangements your students will enjoy just as much as you. In fact, even your budget will love these selections.
To give you an idea of what arrangements are available in our current downloadable sheet music library for middle school choirs, consider these brief introductions to two selections. The best way to get a feel for the quality of the music is to listen to a recording of each piece. This overview will give you some insight into what these songs are about. Recordings by partpredominant.com.
Free Song #1


I Just Wanna Go Back to Bed
With a slight touch of jazz and subject matter to which everyone can relate, this song will give your students a much needed wake-up call. The lyrics playfully touch on the "opportunity" that comes with waking up early in the morning to go to school and push through another challenging day. It's something that will relate to your audience as well because we've all experienced days when the alarm sounds way too early and the to-do list is way too long.
There are many teaching moments in this piece which touch on dynamics and phrasing, as well as emphasizing the entertainment value of the lyric line. This would be an excellent transition piece from one part of your program to another or a great encore piece to send your audience singing out the door.
CLICK HERE to play I Just Wanna Go Back to Bed

FREE Song #2


Rainy Day Getaway
Do you want to introduce something truly fun into your program? Something that allows you to escape to a more pleasant environment? This piece takes everyone on a sunny adventure where the beaches stretch on for miles, the breezes are warm and inviting, and palm trees sway in the wind. The style is traditional calypso and the musical arrangement allows students to lighten up and celebrate through song.
Get your pianist ready to keep up the pace because everyone will want to hear this piece over and over. It's time to escape to the Caribbean even if your streets are covered in snow and your students are dreaming of spring break. While this song is great fun to sing, it also has some musical challenges your choir will enjoy. The calypso rhythms, along with a very innovative melody, will draw your audience into the program. This is the perfect piece to brighten up your concert.
CLICK HERE to play Rainy Day Getaway

Selecting the Perfect Middle School Song Packages and Downloadable Sheet Music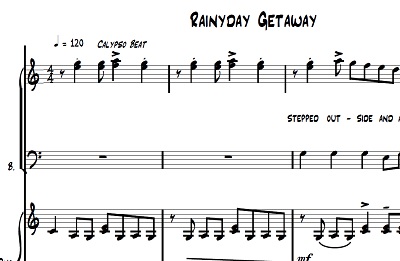 These selections from SingFree.net offer the perfect balance between entertainment and developing musicianship in your choir. The lyrics are age-appropriate, light-hearted, and easily draw audience members into performances. 
To select the right arrangement for your middle school choir, think about other pieces you want to incorporate into your program in the current or upcoming school year. Select pieces that allow your students a diverse range of musical exploration while fitting into your programs and lesson plans smoothly. Remember to enter your email address in the "Special Gift" box to receive two FREE songs!