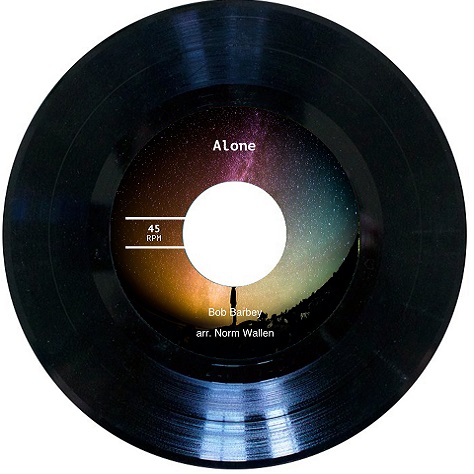 Alone was composed by Robert A."Bob" Barbey (1924-2002).  He was a graduate of the University of Washington, Washington State University, with a Masters in Theory and Composition from Central Washington University. He taught primarily elementary classroom music for the Everett WA Public Schools for 30 years. He was also a prominent jazz pianist in the Seattle and Vancouver BC area. 
Bob composed hundreds of published songs, many in respect and appreciation of the environment and animals ranging from bumblebees to whales.  He was a warm and friendly father figure to family, friends, and students alike. Bob seemed to know their innermost thoughts and concerns, which were often reflected in his songs. 
Type of ensemble: Three part mixed voices
Story line:  Alone was originally a 26-measure composition with a single verse of lyrics evoking beautiful, soothing and delightful mental images. He describes how the frantic and frustrating pace of life can be managed successfully through relaxing, dreaming, and refreshing by yourself, alone. We all can relate to that!
In 4-measure phrases with an extended "bridge and coda," the song form and harmonies were reworked slightly to create a logical repeat. Verse 2 lyrics were written matching Bob's rhyming scheme exactly, and an extended coda created as the 2nd ending.
Teaching technique points: The SAB choral parts move in and out of unison and octaves into solid, easy-to-hear triads. The piano part includes extensions to the harmony based on Bob's original chord notation, making the choir parts sound considerably more difficult than they really are.
Program placement: The lyrics speak beautifully to cares, concerns, and stresses we all can feel; providing ideas for coping, and confirmation being alone with our thoughts and dreams is a good and healthy thing. This is a contemplative piece for the middle of a program.
Product includes: Sheet music, lyric sheet,  soprano mp3, alto mp3, baritone mp3, piano accompaniment mp3