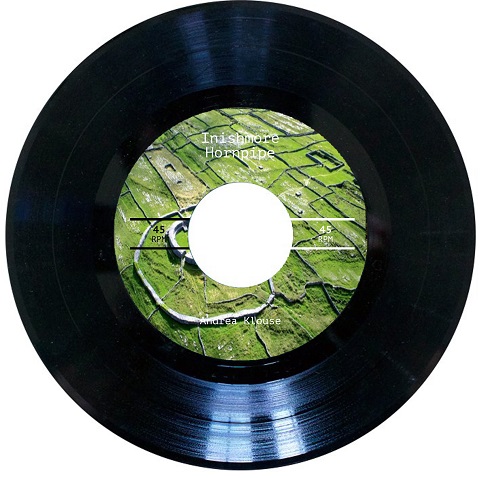 The Inishmore Hornpipe was written by Andrea Klouse.  In the summer of 2018 Andrea had the opportunity to travel through Ireland with the Tacoma Concert Band. Her husband Bill performed with the Tuba section and she participated as a "Groupie."   During her tour, the band played in castles, town squares and royal concert halls on the way to a penultimate competitive performance.
At one sightseeing/lunch stops, Bill and Andrea snuck off to Dublin University Library where they located the archived and very dusty children's folk songs waaaay upstairs in the back. Two themes leapt off the pages and she became completely overtaken by them.
When they arrived the next day at Inishmore on the Aran Islands, a descant emerged, her fingers began to fancy a fiddle pattern and a drum part started to thrum in her head. Sans electronics in the backlands, she found an old fashioned manuscript paper and began to set the piece.  
Type of Ensemble:  Inishmore Hornpipe is a contagious Irish work for treble voices (2 part w/descant, fiddle and piano). 
Technique teaching points:  As well as the teasing fiddle fun, supportive piano part, make-sense multimeters, optional drumming and theme's end (Heigh UP!) which together create a strong platform for teaching of the skills hidden inside.
Successful part singing for all singers is heightened by the accessible and catchy modal tunes and text from these two public domain choruses: 
Mrs McGrath (Wid yur too-ri-ah, fol the fiddle ah….) which was a traditional, popular leading up to the Easter rebellion in 1916.
All for Mairi's Wedding (Bracken brown thought the town, all for Mairi's Wedding).
History and Culture: The hornpipe, which is reported to have begun on 16th-century English sailing vessels, is one of several dance forms from Britain and Ireland which have been enjoyed through present day. 
Program placement:  This is a CAN DO! Concert Opener or Closer. Your audience will be grinning right back at your grinning performers! 
Product Includes: Sheet Music * Lyric Sheet * Soprano 1/2mp3  * Alto mp3* Piano mp3 * FullMix mp3